TTY Adriatic
---
Subject type: SME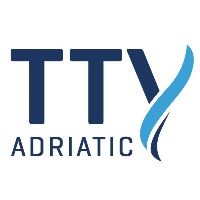 T.T.Y. Adriatic d.o.o. is, since 1999, Slovenian saller of German sailboats Bavaria Yachts. At the moment they can offer 10 different sailing boats of Bavaria brand: Three of seria C (C45, C50 and C57), five of Cruiser (Bavaria Cruiser 34, Bavaria Cruiser 37, Bavaria Cruiser 41, Bavaria Cruiser 46, Bavaria Cruiser 51) and two of Vision (V42 and V46). They also have two Bavaria catamarans - Nautitech 40 and Nautitech 46.
The company also sells used boats and exceptional spinnaker Parasailor, deals with charter management, offers yacht charter, and rents yachts from Izola (Slovenia) to Dubrovnik (Croatia).
In marinas along the Adriatic coast, they have a network of authorized servicing companies: Koper - T.T.Y. Adriatic d.o.o., Novigrad - MARSERVIS d.o.o., Pula, Veruda - NAUTIC ADRIA d.o.o., Biograd - ANORTI ADRIA d.o.o., Hramina - Marina Hramina d.o.o, and Kremik - NAVIGATOR d.o.o. The service also ensures customers satisfaction after the sale of the boat, and make sure that boat can be prepared for the summer.
Bavaria Yachtbau GmbH recommends to their clients to purchase new yachts at a dealer that will guarantee after-sales support at the local mooring. T.T.Y. Adriatic offers complete information about the yacht, purchase and financing, transport and customs, registration and insurance, installation and additional equipment, mooring and service maintenance, perform regular check-ups at the yacht when owner is away, supply the owner with original spare parts, offers ABC instructions on navigating, and provides all kinds of information about the Adriatic Sea.
General manager: Tomaž Kunaver.
Contact: info@tty.si
Link: http://www.tty.si/default.asp
Location
Komenskega ulica 12
Ljubljana
Slovenia
Best available technologies / Innovations
Currently no innovations submitted to the platform