BARRACUDA BRODOVI D.O.O.
---
Subject type: SME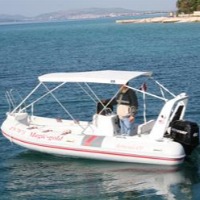 BARRACUDA SHIPS d.o.o. is a company formed on the basis of 17 years of experience and work on various types of vessels. The director of the company is Daniel Petrak who is known in the large circle of people who are engaged in the production and sale of vessels as a modeler from RIS (present AD ships)
Based on years of experience in the production of plastic bottom rubber vessels, Barracuda Ships d.o.o. has made a brand new inflatable BARRACUDA 470 which with its many innovations is a serious competitor, not only in domestic but also in foreign manufacturers.
Our latest model is the BARRACUDA 650 CABIN, which competes with many manufacturers in the world with greater volume and better maritime capabilities.
Location
Zagreb, Ježdovečka 74
ZAGREB
Croatia
Interests
Shipbuilding
Nautical equipment
Metal processing
Renewable energy sources
Engineering and design
Nautical marina, Services
Best available technologies / Innovations
Currently no innovations submitted to the platform