Godler d.o.o.
---
Subject type: SME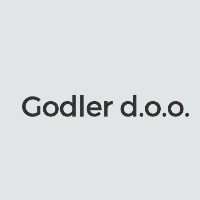 Godler, the production of catering equipment and refrigerating doors, d.o.o. is Slovenian company established in 2002. They are a micro company with years of experience in the design of stainless and dyed sheet metal. Their production area is located in the industrial zone in Kamnik.
With the sales programme they offer a selection of catering equipment, delicatessen equipment on request, refrigerating doors and stainless steel accessories. They also produce all other stainless steel products according to customers' wishes. They operate with smaller and larger retail and catering companies, such as Tuš, Mercator, Perutnina Ptuj etc.
Using modern technology, they take care of product design and the entire process of sheet metal processing. In the process of sheet metal processing, they pay special attention to each stage, because the top product and satisfied customer are their basic guide. They try to satisfy all the wishes of individual buyers, from the initial idea to the manufacture.
General manager: Hermina Godler
Contact: info@inox-art.eu, brane.godler@siol.net
Link: http://hladilniska-vrata.si/
Location
Dvoržakova ulica 13a
Domžale
Slovenia
Best available technologies / Innovations
Currently no innovations submitted to the platform