Ch. Kapopoulos and Associates, AQUATERRA
---
Subject type: SME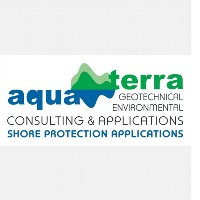 Ch. Kapopoulos & Associates Co., AQUATERRA which is founded in Patras, Greece in 2007 is an ISO 9001:2008 (DQS-UL) certified company with a strong commitment to innovation and specialized services. It is the first Greek company associated with Soft Shore Protection methods for coastal erosion control. The company holds a patent license (issued for 2014-2034) for its innovative shore protection arrangement on transforming wave current energy in respect to sediment (sand) deposition near the coast.
The scientific team of AQUATERRA carries professional experience of 15 to 25 years in Geosciences, Engineering and Environmental Impact Assessments, elaborating more than 400 studies and applications for the Public and the Private sector in Greece and abroad.
The company uses state-of-the-art commercial software on implementing a broad spectrum of Hydrodynamic, Hydraulic and Geotechnical applications. It also develops in-House numerical modeling software for the coastal-aquatic environment implementing High-resolution hydrodynamic and hydraulic simulations on predicting environmental impacts induced from infrastructure, marine renewable energy (MRE) installations and other anthropogenic activities.
Our scientists hold a long collaboration record with selected Greek and foreign Companies, Authorities, University departments, Institutes. Our main motivation springs from our commitment and passion on providing high-quality services relevant with Insfrastructure design as well as with Environmental protection and monitoring subjects.
AQUATERRA is member of the Greek HUB for Blue Energy (GH4BE) In the framework of the Mediterranean PELAGOS project.
Location
Gounari 5
Patra
Greece
Interests
Renewable energy sources
Engineering and design
Nautical marina, Services
Best available technologies / Innovations