JK - NAUTIKA D.O.O.
---
Subject type: SME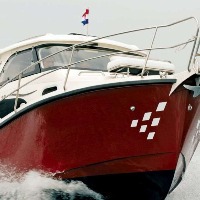 JK - NAUTIKA D.O.O.
TEL +385 1 6218 803
E-MAIL: info@jk-nautika.hr
JK-NAUTIKA originated from KOSANOVIĆ-BROD d.o.o. the same owner who has existed since 1998 until the establishment of the JK NAUTIKA.
By acquiring the title Master of Naval Architecture in 2004, Josip Kosanović also acquired a real right to found today's craft.
Love for nautics and boats was born in childhood, through playing and working at her father's boat manufacturing company. Through all these years of existence on the market, we have gained a lot of work experience, which is being improved every day and refined with new technologies and standards.
JK - NAUTIKA crafts works under the supervision of the Croatian Register of Shipping (HRB Split) and the Institute for Quality Testing (ZIK doo - ZAGREB).
Location
JAGODNO 105C
10410 VELIKA GORICA
Croatia
Interests
Shipbuilding
Nautical equipment
Metal processing
Renewable energy sources
Engineering and design
Nautical marina, Services
Best available technologies / Innovations
Currently no innovations submitted to the platform